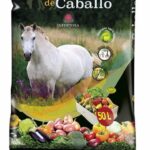 New product: HORSE COMPOST
29 de August de 2023
New Peat Cosmetics Blog
30 de August de 2023
INFERTOSA presents its new bag of the T-PLANT SUBSTRAT FOR SEEDLINGS, designed to provide the optimal conditions for seed germination in pots and trays.
Its basic features are its light and aerated structure, its high capacity to retain water and a good drainage. Its perfect combination of white and black peat, and its fine screening make it ideal for trays of horticultural crops, for both manual and automated filling.
The new format in 40L bags is oriented to the general public, being the previous 80L format for professionals still available.