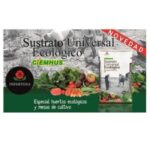 NEW PRODUCT: CIEMHUS UNIVERSAL ECOLOGICAL SUBSTRATE
30 de August de 2023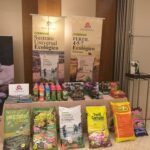 Exporgarden Córdoba 2019
30 de August de 2023
In October, Infertosa meets its annual appointment with Iberflora 2018, the International Plants, Flowers, Landscaping, Technology and Garden DIY Trade Fair. The fair is held every year in Valencia as a meeting point with existing and potential customers, as well as a national and international showcase where Infertosa presents its latest new products.
For this edition of Iberflora, and very much in line with current trends, INFERTOSA launches its new line of organic products with two new products:
On one hand, INFERTOSA presents its CIEMHUS UNIVERSAL ECOLOGICAL SUBSTRATE, ideal for ecological gardens and cultivation tables. Its structure improves the circulation of air and water and its content of ecological pellet fertilizer and earthworm humus facilitates the correct growth of any crop. Now available in 50L format, this substrate is included within the new range of ecological products of Infertosa. (Substrate certified by Intereco with Nº of certification NFT-06 usable in organic production.)
Additionally, INFERTOSA announces the upcoming launch of its CIEMHUS FERTIL 4-5-7, a high quality compost of solid organic matter, contains the necessary macronutrients and micronutrients for the growth and development of a large number of crops. It contains vegetable compost and manure compost of mountain fed sheep and free-range hens. Its composition favours the increase of beneficial microorganisms improving the structure of poor soils, facilitates water retention, cation exchange and nutrient fixation. Available very soon in bags of 25kg.
Also, Infertosa increased this year's budget for fairs participation,  exhibiting at Iberflora with a bigger booth space, where recreated on one hand the concept of a "garden center", and on the other, an "agricultural farm", with a particular focus on products for organic farming. The recreation of the small farm with animals at the stand  was specially liked and photographed by children and adults.