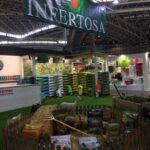 Infertosa at Iberflora 2018
30 de August de 2023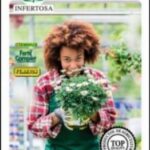 New Publicity Image – Bloom together
30 de August de 2023
As members of the Spanish Association of Garden Centers, from 31/Jan/19 to 1/Feb/2019, INFERTOSA participated in EXPORGARDEN CORDOBA 2019, the annual congress that brings together the main managers of the Garden Centers and collaborating companies. (More information atwww.expogarden.org). In this edition, very much in line with current trends, INFERTOSA attended the event with its new line of certified products for organic farming:
On the one hand, the CIEMHUS UNIVERSAL ECOLOGICAL SUBSTRATE, an ideal substrate for ecological gardens and cultivation tables, is a Substrate certified by Intereco.
On the other hand, the CIEMHUS FERTIL 4-5-7, a high quality compost of solid organic matter, contains vegetal compost and compost of sheep manure fed on the bush and chicken manure. Certified for organic farming by two of the most important certifying bodies: Certified by INTERECO and SOHISCERT.